Campaign date: 18th June 2021 to 18th July 2021
Guess you know traffic summon are not cheap. Way more expensive than any summon by majlis perbandaran. Right now, PDRM offer 50% to help you pay off your summon, its a great deal. Clear yourself from debt when there's discount. Polis summon is valid across whole Malaysia, you travel to any part of Malaysia, this bill also under Polis coverage.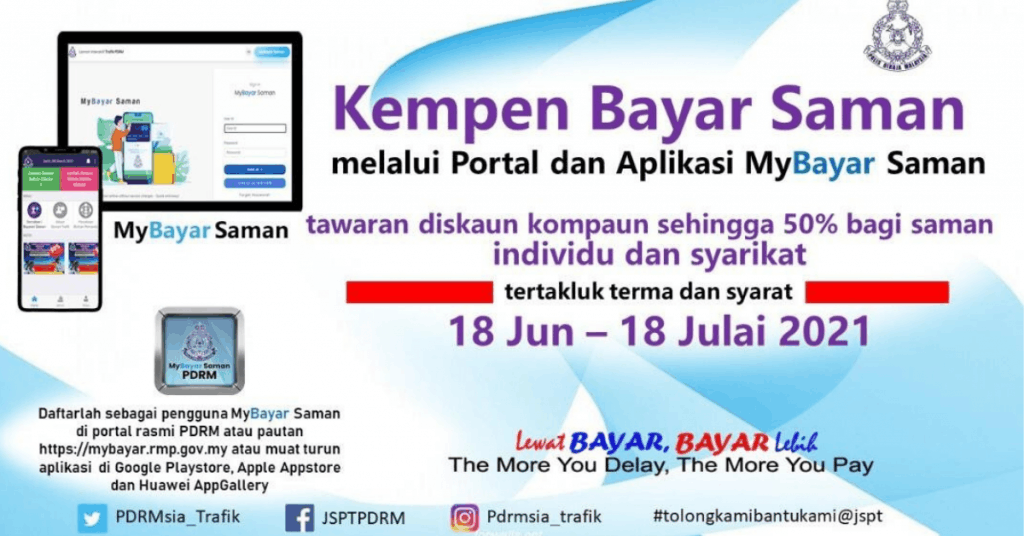 Methods of payment:
a. via mybayar mobile app
b. via mybayar website
Payment via mobile app is not recommended as of now. I've tried it myself, still got a lot of error, summon listing not appearing, login hang, and click payment button not functioning.
Steps to pay at website?
Click Register
Fill in all your details
Wait for OTP arrival at phone, key in to verify your identity.
Login with your NRIC and password
Browse your summon list and tick on it
Click on payment button and you will be redirected to payment methods selection page.
Select to pay by bank transfer / Credit Card.
Once payment made, you will receive email with official receipt within 5 minutes.
Note: If your credit card got cash back and point reward feature, you can collect by swiping card.
Benefit of paying at mybayar website
free from any processing fee
skip the long queue up
fully online
no middleman fees
For further details on your traffic summon, call PDRM at 03-2266 3346 or 03-2266 3347