In this post, you will learn how to fund your Interactive Brokers account directly using Ringgit Malaysia without paying high currency conversion and bank service fee, cool? After funding, you can start buying US Shares.
Don't have Interactive Brokers account yet? Click here to open.
Steps to Fund Your IBKR USD Account
Step 1: Login to Interactive Brokers to get funding details

After login, click at Make a Deposit. Then at the deposit method page, select US Dollar and click Get Instructions. 

At the next page, fill in Instarem usd as Sending Institution. I highly recommend transfer via Instarem, why? You can cut down on the bank service fee and currency conversion loss. Save the Bank Information for future reuse.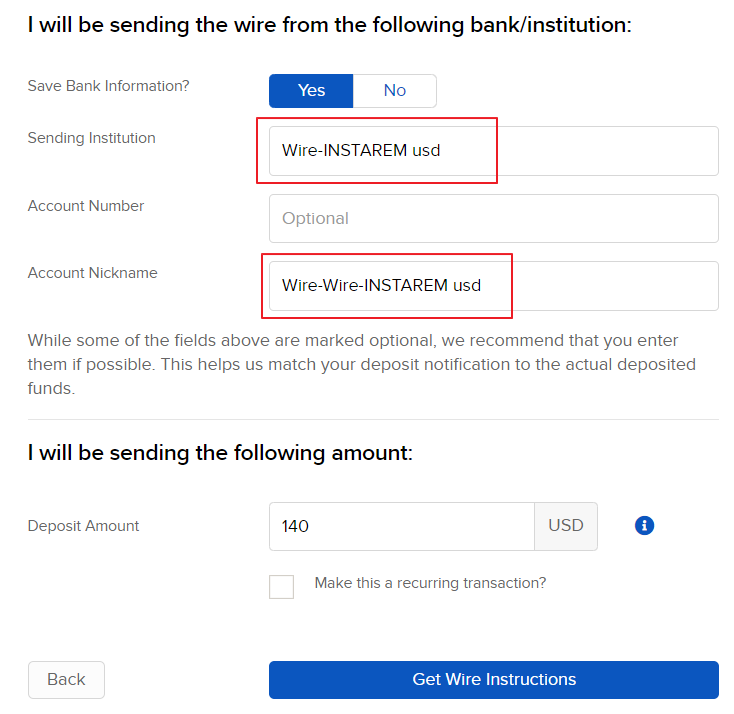 After done, Interactive Brokers will give you full details on how to perform funding. Copy down all the details to use at next step.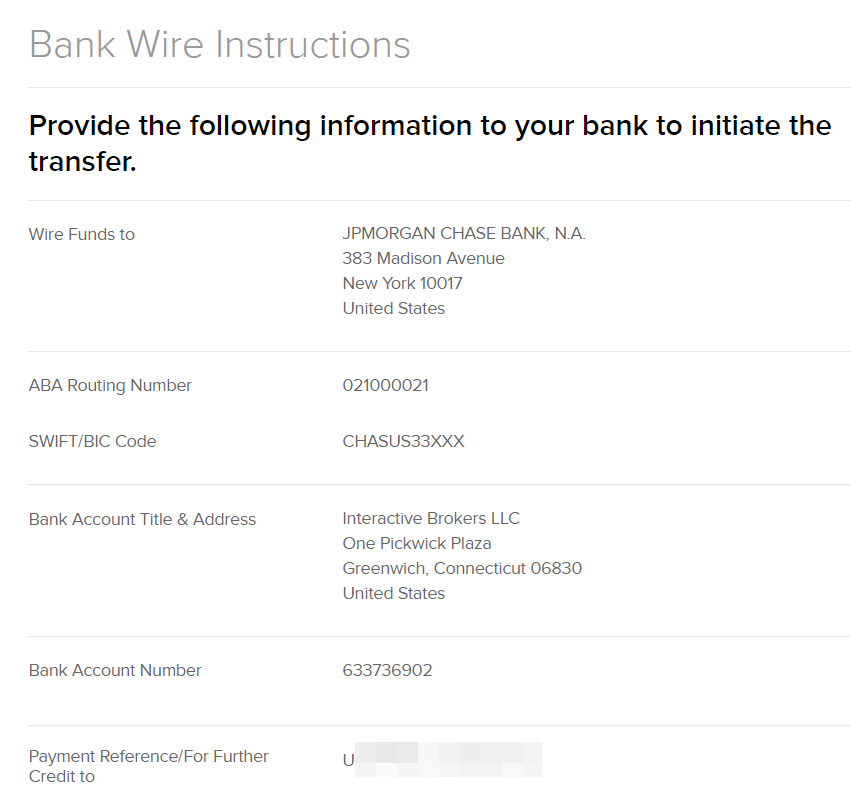 Step 2: Transfer Fund via Instarem
Login to Instarem, add Interactive Brokers as favorite recipient. So that future I can reuse this same bank info and submit transfer in less than 2 minutes. For the email field, just fill in your own email will do. Recipient address is their office address, you can copy from my image below.
New user can get free Instapoint. Every 100 Instapoints entitled you for extra RM6 fees deduction.
Step 3: Fill in actual amount to transfer
Select the the Interactive Broker USD added just now. Fill in the actual amount you want it to show up at Interactive Brokers bank account.
Add a note field is compulsory, you must write down your client account number at here. Replace UXXXXXXX with your own IBKR client account number. If you miss out this, then later you have to download transfer slip from Instarem and manually contact IB to proof there is a payment coming from you. Then just make payment with any local bank via FPX.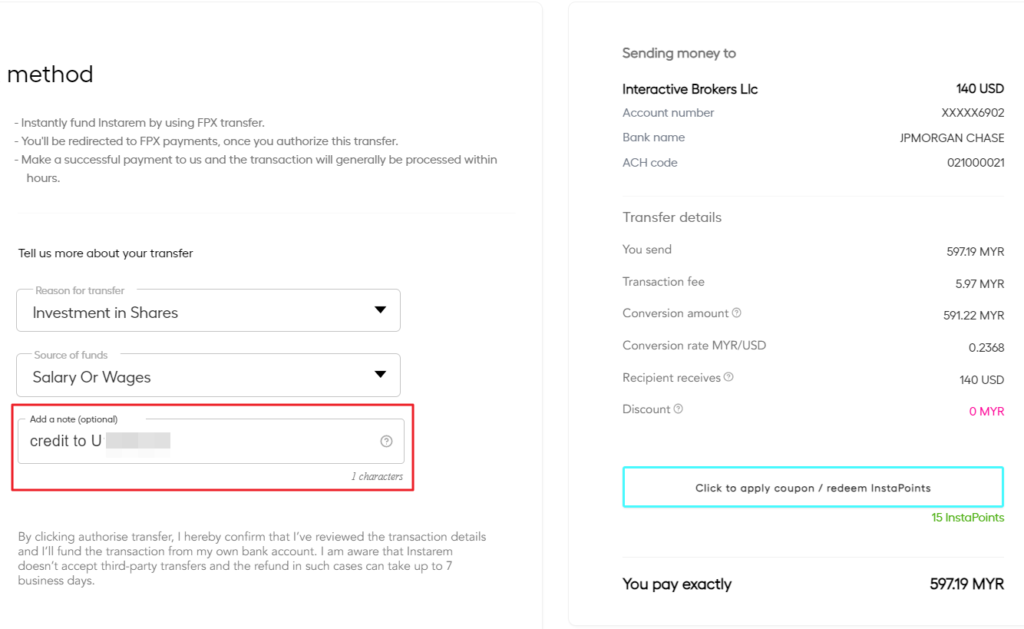 Step 4: Wait for US Bank ACH clearance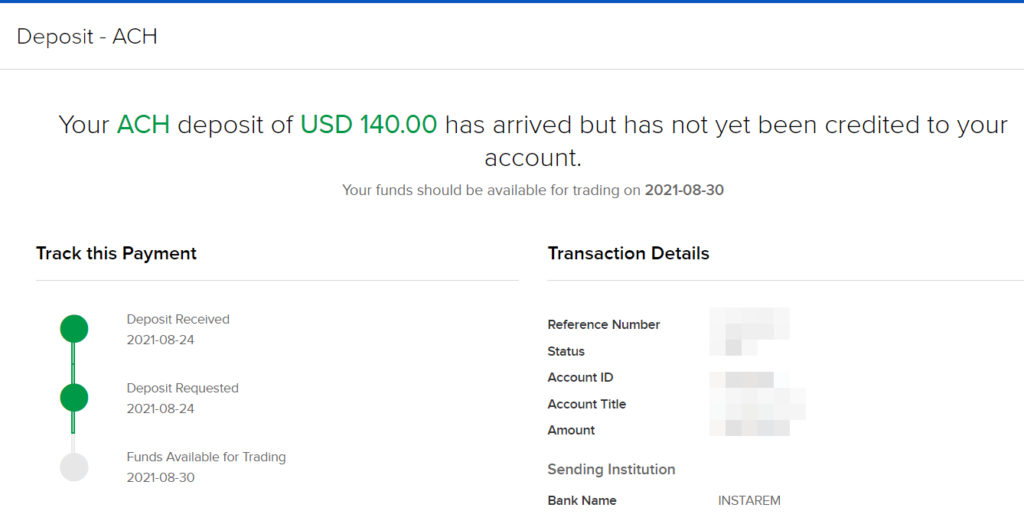 In this example, I perform deposit at 24th, IBKR receive notification of ACH deposit at the same day. Actual date money successfully credited into my IBKR account is 28th, not 30th.
BUT, 28th, 5 days?!!!  Haha, anything related to ACH, be prepare to wait for 5-7 days of clearance. Why??
Refer to bottom, Conclusion section for the answer.
Now you have USD in your IBKR account. Happy investing.
Now you've mastered the full steps to transfer ringgit into IBKR account and show up in USD. Most importantly, the transfer skip through the bank wire, so you saved a lot in terms of bank service fee and bank currency conversion fee.
Why your fund only reach IBKR account after 5 days? Why so slow?
The answer is United States still using the old ACH banking system developed 40 years ago…. It was designed with batch processing in place. Imagine so many banks in US, all have to go through a Federal Reserve central processing system. And that place don't do instant processing, all have to put into queue and wait for cut off time to process. Moving fund from one bank to another typically can take up to few days.
Once your money arrived at US, they perform internal ACH (something like interbank transfer).  ACH still very popular nowadays, due to allowing near to zero interbank transfer fee. 
Still don't understand what is ACH? Imagine it as something similar to GIRO in Malaysia. (many of us here use GIRO before, it is not instant, it take 1-3 days for fund to move from one bank to another bank)
GOOD NEWS!! There's a way to cut down the fund deposit waiting time from 5-7 days to 2-3 hours, find the answer at Frequent Ask Questions section.
Solution: Directly transfer into IBKR Singapore Bank Account, then login into IBKR member area, perform instant currency conversion into USD.  BINGO!
Deposit into IBKR Singapore Bank Account via Instarem (normally arrived almost instantly)

IBKR verify your fund and credit into your brokerage account (take about 2 hours)

You use IBKR currency conversion tool to convert SGD Balance into USD (take about 1 minute)