This post is for people who want to invest in US and China Shares, and want to save on the global exchange rate and fees. Having a bank account in Singapore can help you to significantly reduce your bank transfer and exchange fees from as high as 8% to merely 1.3x% or lower.
Best of all, this can be done fully online, from any part of Malaysia, as long as you are a Malaysia citizen with NRIC.

Prerequisite

1. You must be Malaysia citizen (at this moment, verification document like Malaysia passport)
2. You need a Singapore Bank Personal Saving Account. (You can easily open a CIMB Singapore online banking at here, no need to fly to Singapore, KYC done through online OR phone follow-up, so here you saved on travelling cost)
* this is part of the AML (Anti Money Laundering) policy, to make sure you name at Singapore account match your name at passport. Funding into Moomoo have to originated from the same person.
Here's the full process to open Bank Account without visiting Singapore
Prerequisite: You need a CIMB Malaysia Online Account (skip if you already have)
Before applying CIMB Singapore Saving Account, you need to have CIMB Malaysia Saving Account. Part of the criteria to get your Singapore account approval is they want to be able to verify same owner name for both account at local and at Singapore. Since I already have CIMB, I skipped this step. If you haven't, I recommend you go for the Basic Saving Account.
During this Pandemic season (CMCO, MCO, EMCO, FMCO)… Stay at home and apply through Internet is the safest. Click here to apply your CIMB Basic Saving Account online.
Benefit of CIMB Basic Saving Account
no annual fees
come with e-statement
come with internet banking
minimum deposit RM20
Complete fee details can found from here.
If you selected ATM card option, then after apply, have to walk in to branch to get your card and set password.
* * To prevent account become dormant, make sure perform at least 1 transaction every 6 months. Some simple activities like transfer RM1 from other account into this account will do.
Benefit of this CIMB FastSaver Saving Account:
Zero monthly maintenance fee
Zero yearly maintenance fee
No need PR or working permit
No need to fly to Singapore
Account opening can fully online at any part of Malaysia
Receive inward bank wire without any charges
Perform FAST transfer (also known as instant interbank transfer) to other bank for free
Initial deposit is SGD 1000 (to verify you are an authentic customer)
No need to maintain account minimum balance
I wouldn't bother much on the saving account interest rate. Singapore interest rate is generally very low.
For detailed fees and charges listing, refer to this
Step 1: Fill in application form

Overseas applicant just select the right column.

Then at the 10 minutes application form you will be prompted to upload your NRIC, proof of residential address (telco statement, bank statement to proof your name validity).
You will notice they also ask for TIN (tax identification number). If you are a tax payer, fill in your income tax number by LHDN, else leave it blank. Nowadays LHDN want to hit their KPI and will find all the way to track you. So declare in advance is better than they come to check you further because you trying to hide something.
After fill up the 10 minutes e-application form, you will receive SMS and email with password protected PDF containing information of your new bank account number, together will the details you filled at the e-form previously.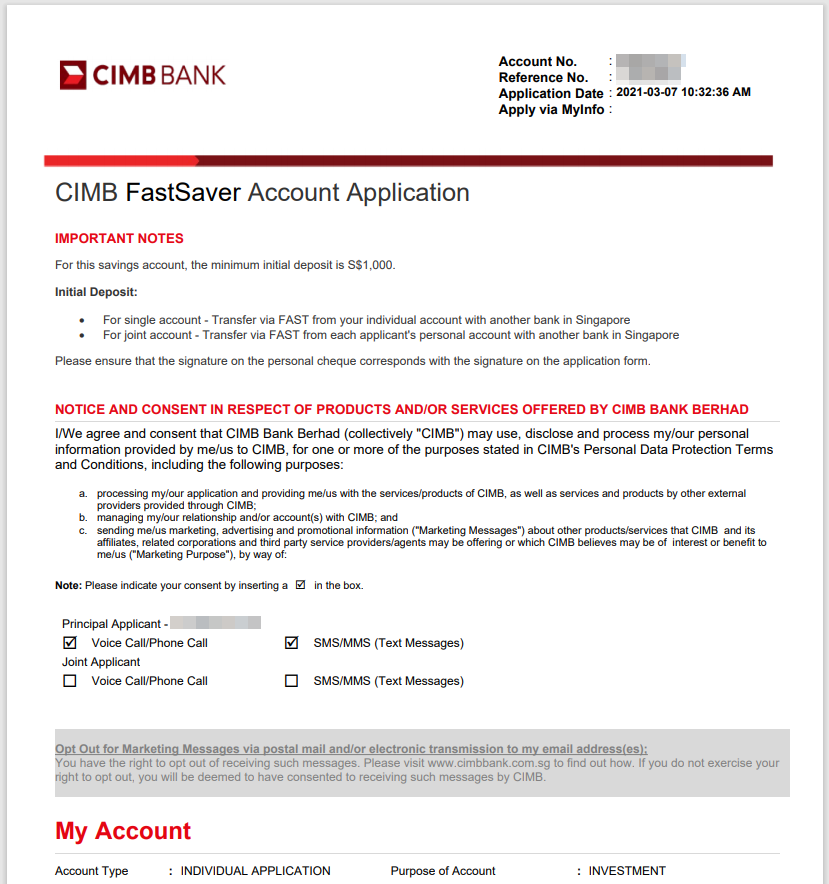 Now, you are given 30 days to complete the identity verification process, failing to do so will result in account closed.
A Singapore CIMB Bank officer will ring you to verifying your identity and asking you the purpose of opening this account? Tell them you need it for share investment purpose.
Step 2: Link up your CIMB Malaysia and CIMB Singapore using the same NRIC

Login to your CIMB Malaysia ebanking via laptop/desktop.
Don't use smartphone browser to do this step, because Account Linking functionality will only appear when you browse via Laptop/Desktop Browser.

Go to Services > Maintenance > Link Singapore Account > Key in your NRIC.
Then it will show Pending Approval.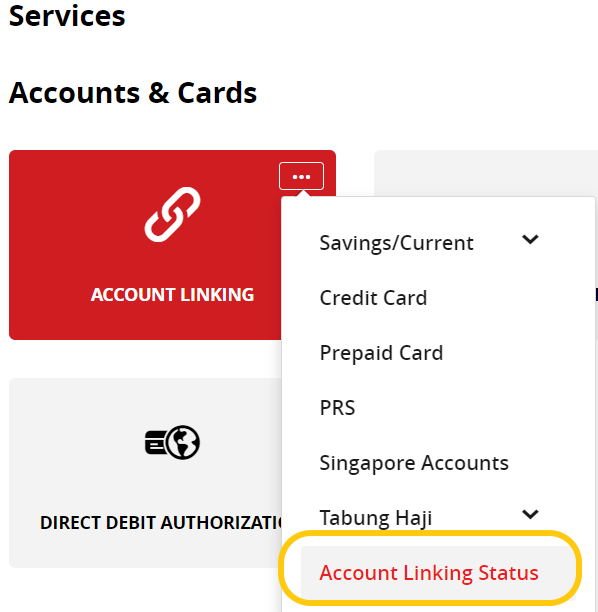 .After 2 business days, come back to same place. You should be this linking approved message.

If nothing show, means application rejected. Directly call CIMB at their customer service hotline +603 6204 7788, tell them you opened a Singapore FastSaver Saving account for investment buy share purpose. Now Singapore side waiting for you to link up your bank to proceed to eKYC step. Then key-in again your NRIC once again to do linking.
Step 3: Deposit 1000 SGD into your Singapore Saving Account
Once linkage successfully approved, at Account Overview, you will see the Singapore Country Flag and the new account number appear in the list with balance 0 SGD.

Now go to Pay & Transfer Tab to easily perform Instant ASEAN Transfer (Internal transfer).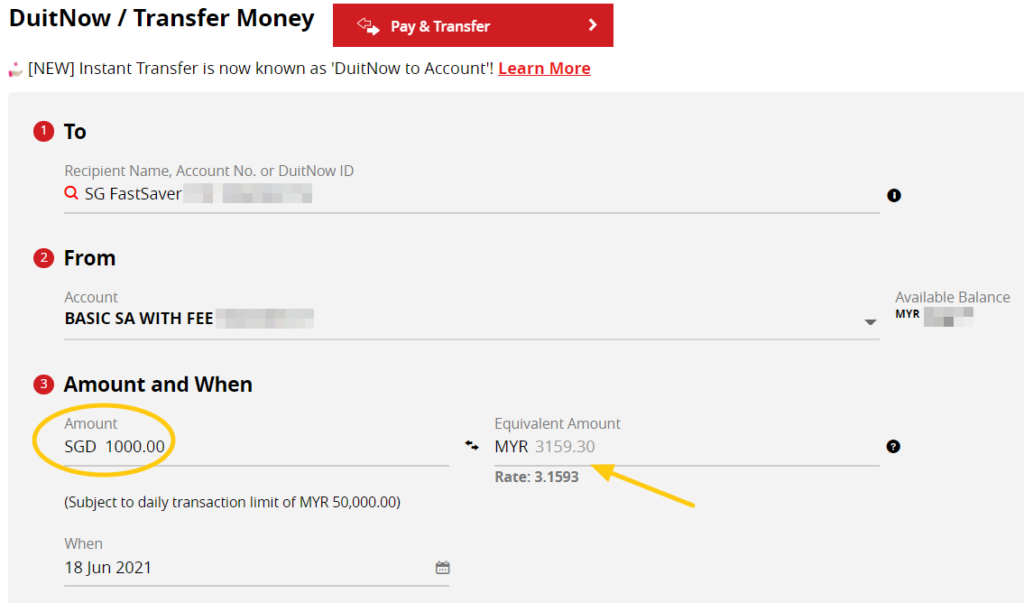 send SGD1000 to your CIMB Singapore Saving Account. System will auto calculate the value in MYR. This exchange rate is quite reasonable too. The fund will reach your Singapore bank instantly. Then wait for the approval of your Singapore bank account.

*Previously you can send in SGD 1000 to Singapore through any method. However, as of today, CIMB starting to reject those who not following strict ownership verification procedure.
Step 3: First time Login and mobile app setup
Once account approved, you will receive an SMS. Go ahead to perform your first time login at https://www.cimbclicks.com.sg/clicks/
Fill in your NRIC, activation code from SMS, desired User ID, and password.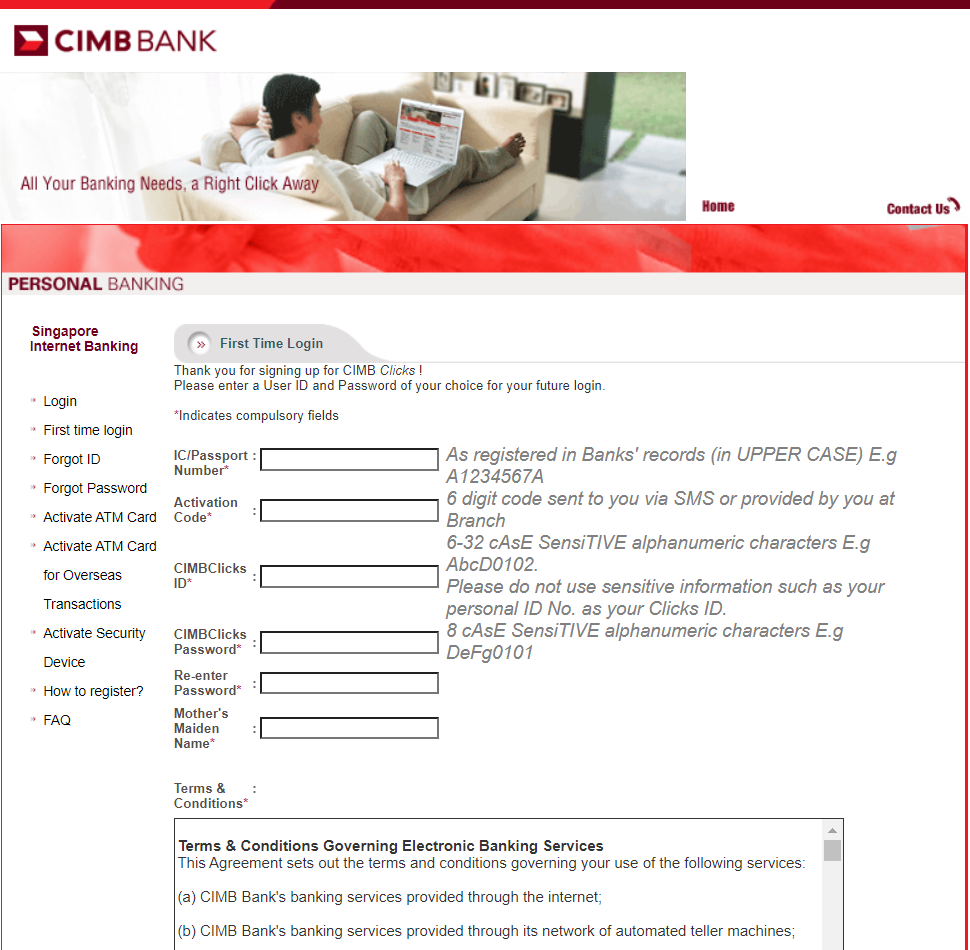 Step 4: Install mobile app
Download CIMB Clicks Singapore from Google Play Store or iOS App Store. Setup digital token for mobile app login.
once you setup the token, when you login to internet banking again, website will prompt you to check your mobile app to approve this particular login from mobile phone. It means if someone have your website login also no use, they need to have your mobile phone too, else they can't login.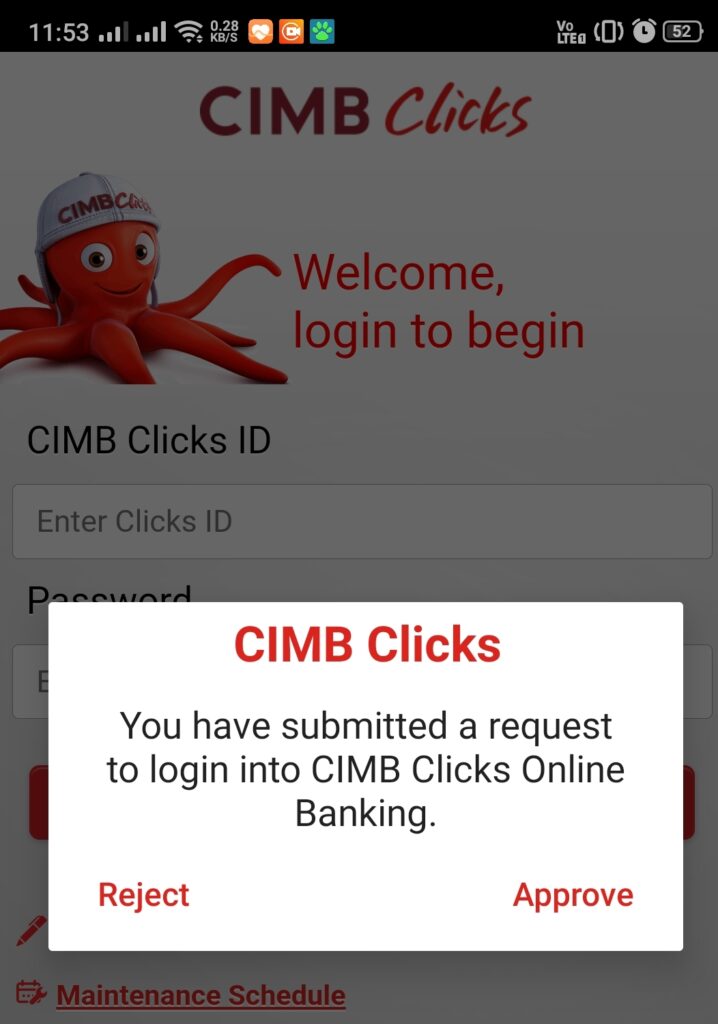 Now you already have 1000SGD (CIMB verification require you to transfer money to your SG Fast Saver account using matching name from Malaysia bank account). Saving account approved successfully.
Now if you come from broker account opening, you can go back to that page, go back to step 5 at the other page on instruction to topup via Instarem to save huge on processing fees.