If for whatever reason you unable to use Instarem to perform direct transfer fund deposit into Interactive Brokers, you can use this alternative way to avoid expensive Foreign TT fees. All you need is a CIMB Singapore Bank account. Don't have yet? Follow this guide How Malaysian can open CIMB Singapore Online Banking?
Step 1: Get Wire Instruction
Login to IB, go to Funding page, Select deposit currency as Singapore Dollar, then click Get Instructions.

Next, let IBKR know you are funding SGD from where? If you follow my guide, you are funding from CIMB Singapore, so just fill in your CIMB Singapore Account Number at given field. Then fill in deposit amount that IBKR will be waiting for.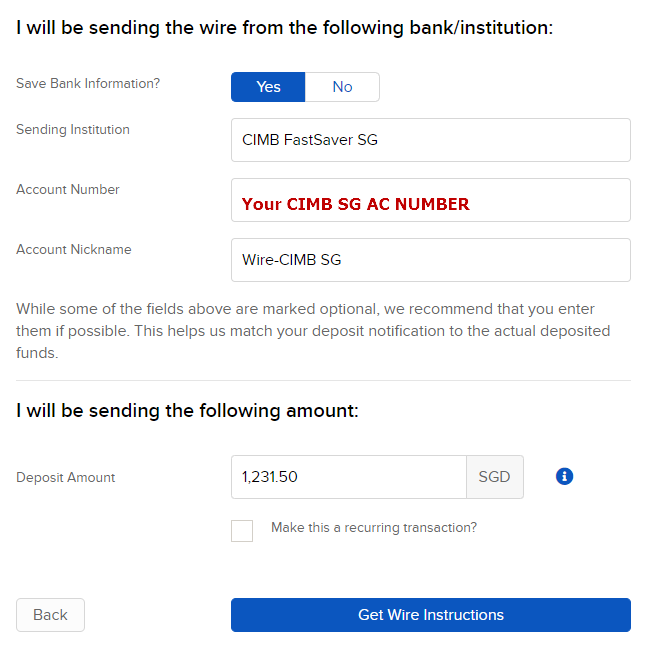 Next, IBKR will give you full Bank Wire Instructions. In this case, you are funding from your Singapore Account direct into their Singapore Bank Account. In Malaysia, we call this as IBFT (Instant Interbank Fund Transfer), In Singapore, they call it FAST (Fast And Secure Transfer, just the same thing).  SWIFT and Address is  not needed because we are now doing interbank transfer in same country. All you need is Recipient Bank Name, Bank Account Number and Account Holder Name.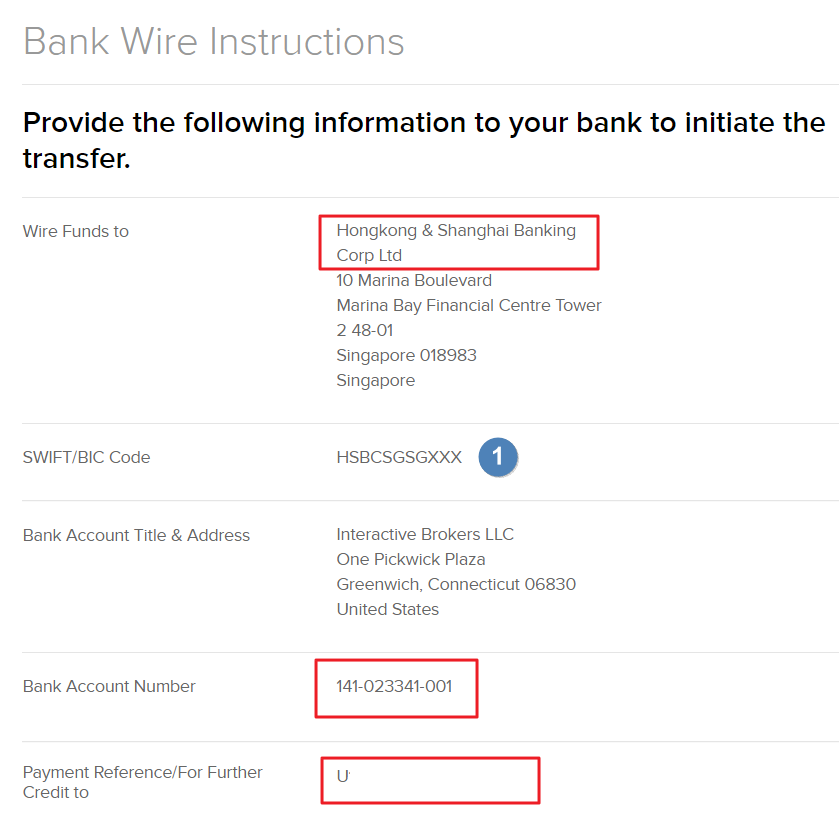 Now login to CIMB Singapore eBanking. Before starting the transfer, I always Add to Favourite first. Why? Future can reuse the same bank info and making transfer in less than 1 minute. Nothing special here, just make sure you let recipient IBKR know the fund need to put into your IBKR client account.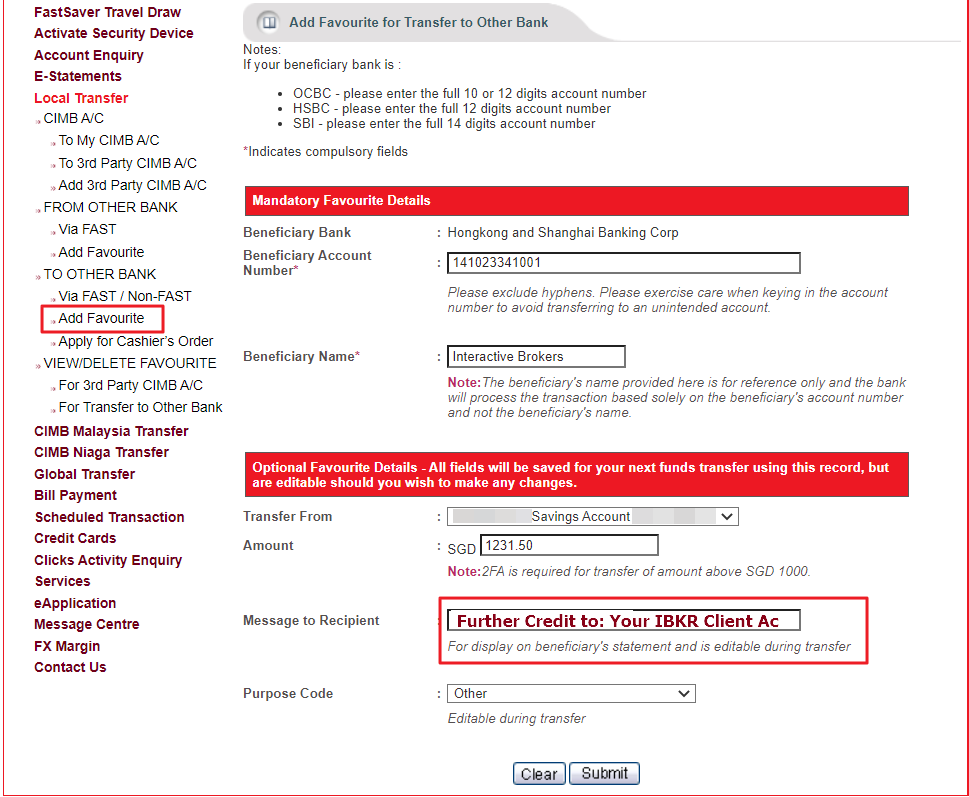 Step 4: Check Funding Status at IBKR
Generally it take few minutes to 2 hours for IBKR to verify and credit the deposit into your client account.
Step 5: Convert to Your Wanted Currency
Now, I want to trade in Hong Kong market. So I go into currency tab to convert it. IBKR charging a fixed 2USD for each conversion, no matter the is super big or super small. IBKR currency conversion is using real time spot rate!  I purposely go compare with google finance and getting -0.052% only 🙂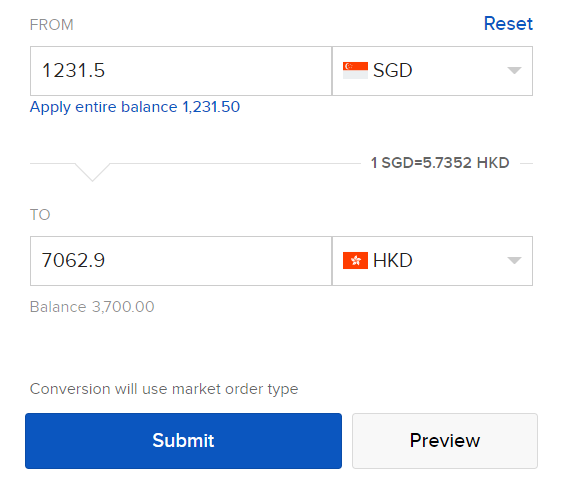 IBKR will notify you once the full conversion done.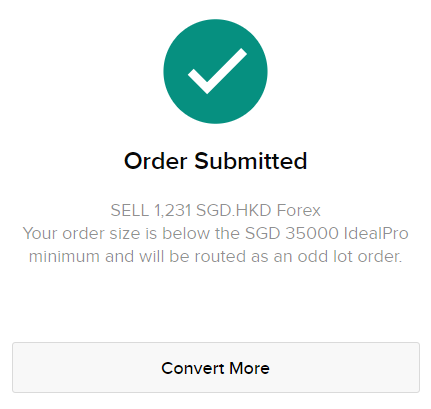 Having a CIMB Singapore account is highly recommended. IBKR is a very good broker, having one account means can trade almost everything, including forex.
However, Malaysia is a conservative and corrupted country. Many people here misuse forex to scam people, as well as doing money laundering activity, this causes Bank Negara Malaysia to become very strict when allowing broker to operate here, 10X stricter than Singapore. We have also heard of few rare case where people unable to withdraw money from IBKR back into Malaysia too.
So if you have a Singapore account you can easily withdraw to Singapore, then convert back to ringgit malaysia without any problem.
IBKR platform sell assets > IBKR platform convert cash into SGD Balance > Withdraw SGD Balance into CIMB SG Bank Account > Convert SGD into MYR instantly > That's it, now the fund available inside your CIMBClicks Malaysia.
It's first party transfer, you can easily withdraw money back to your CIMB SG in SGD, then transfer back to Malaysia in MYR via the CIMB linked ASEAN transfer.