Are you a Malaysian looking to investing in US Shares? In this post, I'm going to share my experience on using Moomoo Broker to invest in US Shares. * Note, if you are looking for brokerage account for active trading, then skip this post.
Well, there's quite some overseas brokers allowing you to purchase US Shares. To name a few, TD Ameritrade, Moomoo, WeBull, Interactive Brokers… However, after some detailed comparison, Moomoo is the for any beginner / investor with smaller capital. Why?
 
TD Ameritrade
Moomoo
Interactive Brokers
WeBull
Account opening speed
few weeks to 2 month
within few hours
around 1 week
few days
Minimum Deposit
$3500
no minimum
no minimum
no minimum
Deposit Bank Fees
RM10
$25
big funding fees loss around 3% or above
small funding fees loss around 4-8%
accept transfer through CIMB Singapore

overall global transfer fee is 1.3x% or lower.
allow direct funding with Instarem. Fess less than 1%.
RM10
$14
big funding fees loss around 3% or above
small funding fees loss around 4-6%
Withdrawal Fees
$25
Free unlimited withdrawal
1 free withdrawal per month
$45
Speed of Deposit Appear inside Brokerage Account
via Maybank TT
(1-2 working days)
via Instarem and FAST
(almost instant)
via Instarem and FAST
(1-2 hours)
via Maybank TT
(1-3 working days)

Monthly Fees


Inactive Fee
Recurring Fee
$0
$0
account > $100k, free
account <100k, $10
account <2k, $20
$0
Commission on Shares
USD 0
USD 0.0049/share or
min $0.99
USD 0.05/share
$0
Customer service speed
slow
very fast
fast
slow
Mobile App
a bit slow
limited functionality
intuitive
super fast
fast
 
Can trade HK and Singapore Stock
No
Yes
Yes
No
Suitable for
Serious trader, investor
mid/long term investor with smaller capital

want to invest both US market and China market.
active trader and big investor with huge funding > $100k
intermediate trader who want trade US Options.
Well you can also buy it through Malaysia local share brokers like RHB Invest, Hong Leong brokerage, but… If you are looking for middle to long term investment and don't have big capital to start with, then Moomoo is the TOP Choice for you, WHY?
Reason #1: Authentic broker registered in Singapore MAS under licensing no: CMS101000. Member of US Finra and have SIPC 500k Protection

Not only that, this company Moomoo (aka Futu) is backed by Tencent. Don't know Tencent? How about Wechat? Founder of Wechat is Pony Ma (Ma Hua Teng).

Pony Ma take over Jack Ma as China richest guy after Jack Ma BABA share price beaten down badly due to China government pull back on his ANT financing IPO and step in to curb his monopolistic. FUTU is public listed in US Nasdaq under ticker: FUTU
Reason #2: You save a lot on brokerage Fee

The brokerage fee is way lower compare to using local Malaysia brokers. Local brokers easily charge $50 per transaction. Imagine today I want to buy an apple share (ticker: AAPL) currently priced at $127.35, and I have to pay $50 just for brokerage fee ~siao !!!! ~ hell expensive, Buying 1 Apple Share, instantly loss 39.26%. Crazy!
Buying US Shares cost you $0 brokerage fee. You only have to pay few cents to the GST processing fees required by Singapore. And a one off $1 platform fee each time you perform buy sell. No monthly commitment, no deposit fees, no withdrawal fees, perfect choice for middle term to long term investor!
Reason #3: Super Fast Approval for New Account Opening

After uploaded by documents passports, I got mine approved in less than 3 hours by the CS Manager, no joke.

Application with other broker like TDAmeritrade generally take more than 1 month…
Reason #4: Funding amount appearing super Fast

From my experience, If funding reach them during working hours, it is appear almost instantaneously! I really amazed, FAST transfer to moomoo bank, then within the same minute, moomoo notify with confirmation of cash received. And I login to my moomoo platform can see the updated account balance.
Reason #5: Speed of transferring fund to my Singapore Saving Account is Almost Instant!

While I can transfer money from my Malaysia CIMB Saving to Singapore CIMB Saving, I will loss more for currency conversion fees. Why? banks earn from foreign currency exchange rates. Now, here's a good news. Introducing Instarem, YES I been using Instarem and I love it. Instarem is a service to help you to do international money remittance by saving a lot money compare to banks. I use Instarem FPX to pay to my Singapore CIMB Bank Account, and it take just 1 minute for the money to appear in my CIMB Singapore. Its almost instant.

Reason #6: Nice foreign currency exchange rate inside moomoo platform
Once I deposited money into my Singapore CIMB Saving Account. I login to my CIMB SG to perform FAST (instant interbank transfer) to Moomoo Brokerage account, fully free of charge. Within 1 minute, deposit appear in Moomoo, I then I convert my SGD into USD (to start buy US shares).
I did a comparison with real exchange rate at Google to find out whether moomoo charge high on forex rate. And this result further amaze me. During that day, Google Spot rate for USDSGD is 1.3344, amounted to $2023.38. This means the conversion rate fees by moomoo is just 0.38%. This rate is much better than bank rate!
Reason #7: Moomoo Mobile App is blazing fast

I been testing on few brokers and using it. By far, moomoo mobile app is the fastest, no lagging, and easy to use. I believe moomoo invested quite a lot money into development of this mobile app.
Reason 8# Free Apple Stock and Free extra $S30 credit

Currently Moomoo have this campaign, initial funding SGD 2700 (~$1500) will get free 1 Apple share (currently trading at $129 USD) , definitely attracted me. Who don't want free branded stuff right? You can also fund your account with any lower amount, but not qualify for free gifts.
* for latest offer, click here to visit moomoo.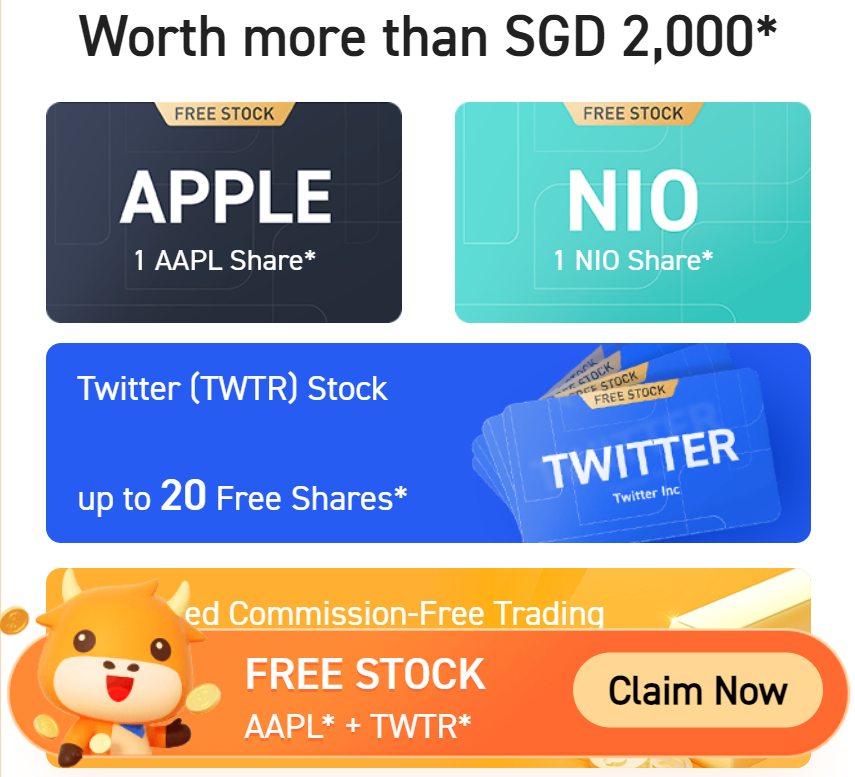 Right now moomoo even giving additional free SGD 50 if you DTC stock transfer in from your other broker account to here. This is free money, and you can only do once!
Beginner Friendly

Well I'm not a big boy who have ten of thousands to fund. So the strategy I applying here is top-up whenever I have extra money, without incurring extra monthly charges or high bank wire fees. Why I choose US markets and not Malaysia market? Looking at Malaysia future prospect, I'm kinda… Many things are going down the hill. Everyday we can see new political drama at tv news… Politician is a good career in Malaysia, some of them earning monthly income near to 100k… As a Malaysian, I really do hope our country can prosper under the right leadership. Let's pray together.
The Perfect Combination For Mid to Long Term Investment

My goal is to build retirement fund by having majority holding of shares of super valuable company with rock solid economy moat. To apply this strategy, I need a broker with very low brokerage fee, no monthly maintenance fee, no monthly trading count commitment. When I just want to deposit probably just few hundred to thousands ringgit to brokerage account, I want to avoid using the Local Bank Wire transfer, because each transfer out from Malaysia to overseas, receiver agent bank charge professing fee $25 gone + RM10 gone to Maybank processing fees + currency conversion loss from MYR to USD.
My ringgit reach other US Brokers that like TD Ameritrade via bank wire, have to loss 3-8% depends 3.2% – 6%
The bigger amount I sent, in relative, the cheaper the cost of bank wire.
But the problem is I'm a small investor looking to buy high quality stock like FB, Apple, I don't have fund of 10 of thousands like others…
So, according to my affordability, My ringgit reach Moomoo in USD overall only loss around 0.5% in conversion fees.

Prerequisite

1. You must be Malaysia citizen (passport is needed)
2. You need a Singapore Bank Personal Saving Account. (You can easily open a CIMB Singapore online banking at here, no need to fly to Singapore, KYC done through online OR phone follow-up, so here you saved on travelling cost)
* this is part of the AML (Anti Money Laundering) policy, to make sure you name at Singapore account match your name at passport. Funding into Moomoo have to originated from the same person.
Here's the full process to open Bank Account without visiting Singapore
Prerequisite: You need a CIMB Malaysia Online Account (skip if you already have)
Before applying CIMB Singapore Saving Account, you need to have CIMB Malaysia Saving Account. Part of the criteria to get your Singapore account approval is they want to be able to verify same owner name for both account at local and at Singapore. Since I already have CIMB, I skipped this step. If you haven't, I recommend you go for the Basic Saving Account.
During this Pandemic season (CMCO, MCO, EMCO, FMCO)… Stay at home and apply through Internet is the safest. Click here to apply your CIMB Basic Saving Account online.
Benefit of CIMB Basic Saving Account
no annual fees
come with e-statement
come with internet banking
minimum deposit RM20
Complete fee details can found from here.
If you selected ATM card option, then after apply, have to walk in to branch to get your card and set password.
* * To prevent account become dormant, make sure perform at least 1 transaction every 6 months. Some simple activities like transfer RM1 from other account into this account will do.
Benefit of this CIMB FastSaver Saving Account:
Zero monthly maintenance fee
Zero yearly maintenance fee
No need PR or working permit
No need to fly to Singapore
Account opening can fully online at any part of Malaysia
Receive inward bank wire without any charges
Perform FAST transfer (also known as instant interbank transfer) to other bank for free
Initial deposit is SGD 1000 (to verify you are an authentic customer)
No need to maintain account minimum balance
I wouldn't bother much on the saving account interest rate. Singapore interest rate is generally very low.
For detailed fees and charges listing, refer to this
Step 1: Fill in application form

Overseas applicant just select the right column.

Then at the 10 minutes application form you will be prompted to upload your NRIC, proof of residential address (telco statement, bank statement to proof your name validity).
You will notice they also ask for TIN (tax identification number). If you are a tax payer, fill in your income tax number by LHDN, else leave it blank. Nowadays LHDN want to hit their KPI and will find all the way to track you. So declare in advance is better than they come to check you further because you trying to hide something.
After fill up the 10 minutes e-application form, you will receive SMS and email with password protected PDF containing information of your new bank account number, together will the details you filled at the e-form previously.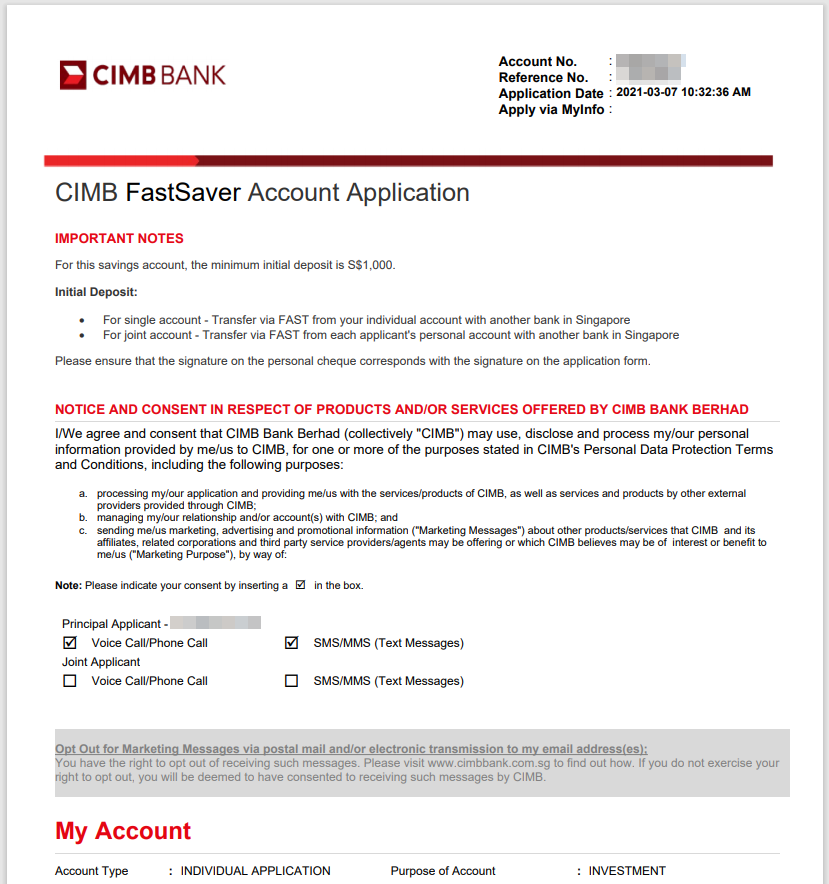 Now, you are given 30 days to complete the identity verification process, failing to do so will result in account closed.
A Singapore CIMB Bank officer will ring you to verifying your identity and asking you the purpose of opening this account? Tell them you need it for share investment purpose.
Step 2: Link up your CIMB Malaysia and CIMB Singapore using the same NRIC

Login to your CIMB Malaysia ebanking via laptop/desktop.
Don't use smartphone browser to do this step, because Account Linking functionality will only appear when you browse via Laptop/Desktop Browser.

Go to Services > Maintenance > Link Singapore Account > Key in your NRIC.
Then it will show Pending Approval.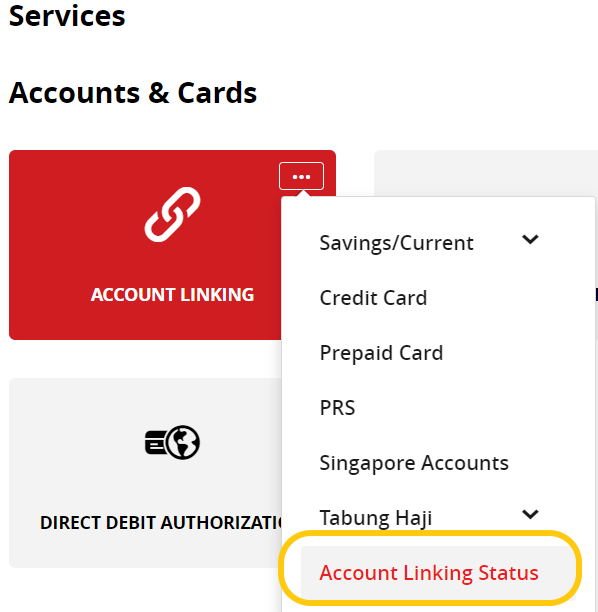 .After 2 business days, come back to same place. You should be this linking approved message.

If nothing show, means application rejected. Directly call CIMB at their customer service hotline +603 6204 7788, tell them you opened a Singapore FastSaver Saving account for investment buy share purpose. Now Singapore side waiting for you to link up your bank to proceed to eKYC step. Then key-in again your NRIC once again to do linking.
Step 3: Deposit 1000 SGD into your Singapore Saving Account
Once linkage successfully approved, at Account Overview, you will see the Singapore Country Flag and the new account number appear in the list with balance 0 SGD.

Now go to Pay & Transfer Tab to easily perform Instant ASEAN Transfer (Internal transfer).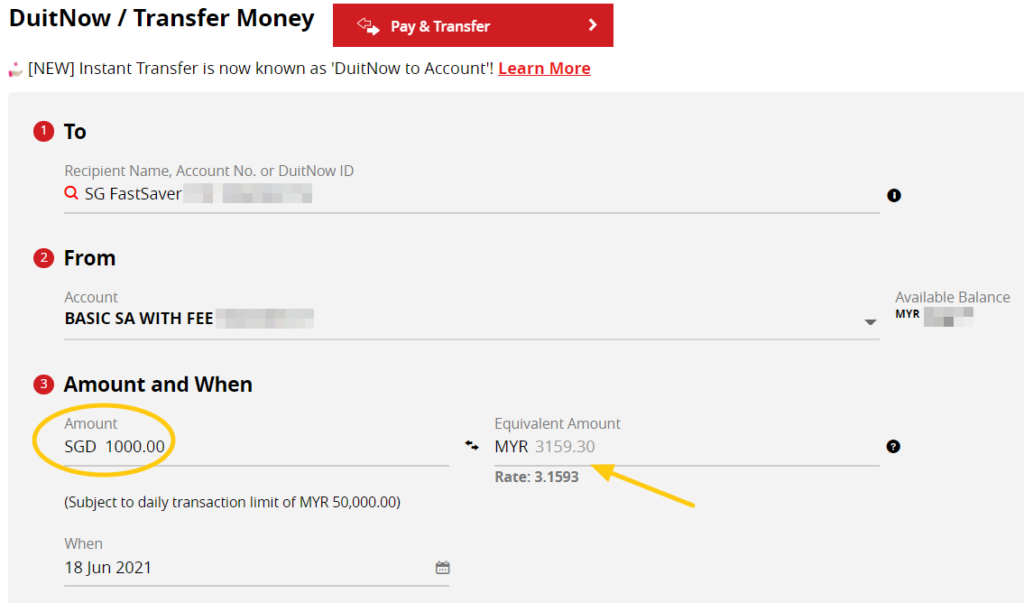 send SGD1000 to your CIMB Singapore Saving Account. System will auto calculate the value in MYR. This exchange rate is quite reasonable too. The fund will reach your Singapore bank instantly. Then wait for the approval of your Singapore bank account.

*Previously you can send in SGD 1000 to Singapore through any method. However, as of today, CIMB starting to reject those who not following strict ownership verification procedure.
Step 3: First time Login and mobile app setup
Once account approved, you will receive an SMS. Go ahead to perform your first time login at https://www.cimbclicks.com.sg/clicks/
Fill in your NRIC, activation code from SMS, desired User ID, and password.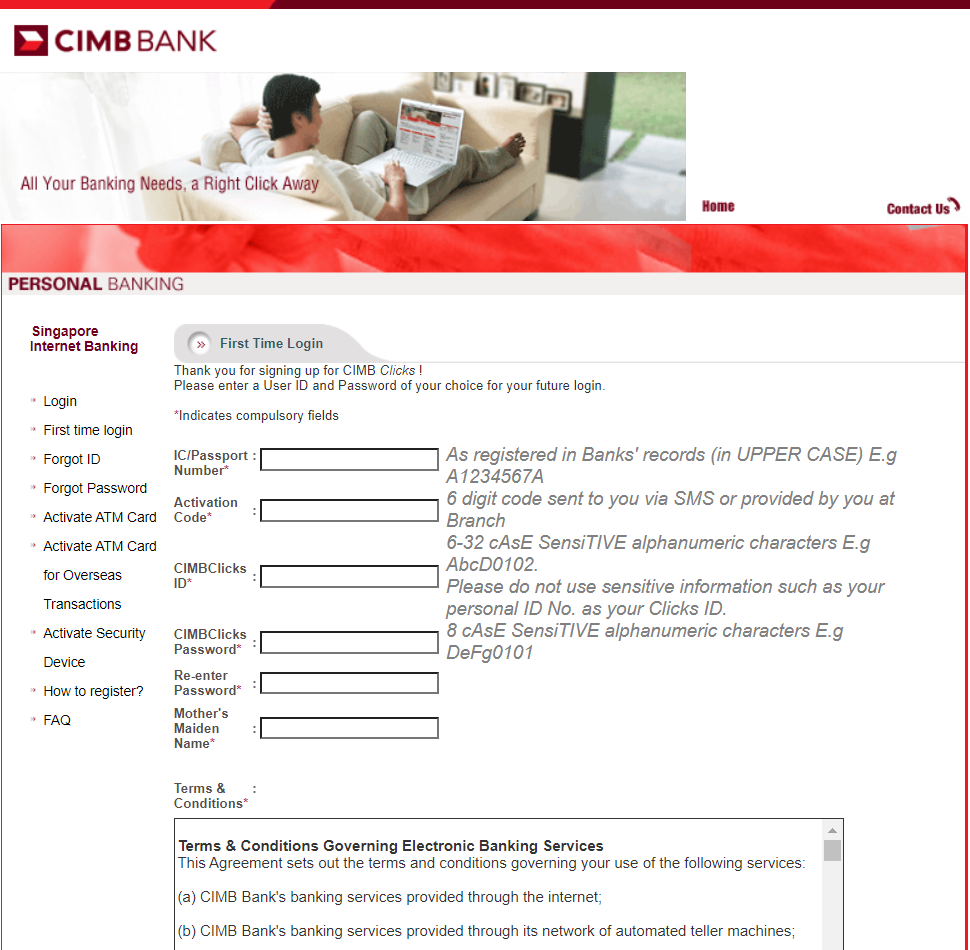 Step 4: Install mobile app
Download CIMB Clicks Singapore from Google Play Store or iOS App Store. Setup digital token for mobile app login.
once you setup the token, when you login to internet banking again, website will prompt you to check your mobile app to approve this particular login from mobile phone. It means if someone have your website login also no use, they need to have your mobile phone too, else they can't login.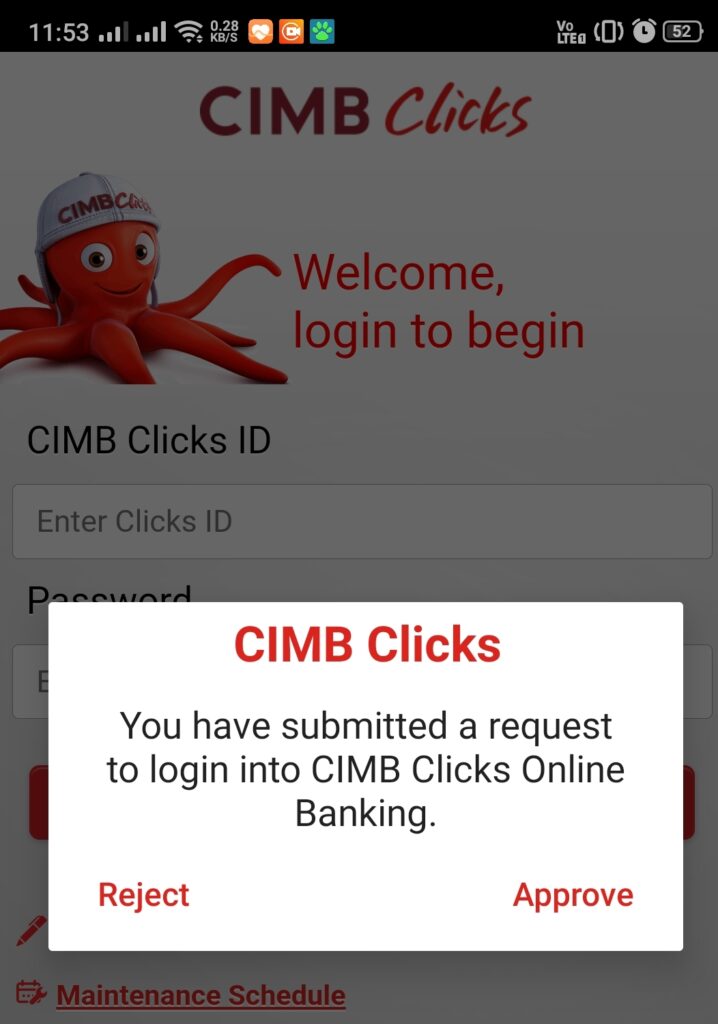 Step 5: Reduce Global Funding Cost from 8% to 1.3x% or lower
Now you already have 1000SGD (CIMB verification require you to transfer money to your SG Fast Saver account using matching name from Malaysia bank account). But to get Free Apple Shares, free 50 credits. Initial funding to moomoo broker have to be at least 2700 SGD.
Now I want to show you how to reduce the funding cost of 1700SGD to maximum by skipping the bank. Introducing Instarem.
Why Deposit Fund to Singapore Account via Instarem? Why not via Global Bank Transfer?
In old days, sending money abroad via bank is expensive, local bank charge you processing fee and lousy forex rates, once the money reach receiver side, the agent bank further charge you processing fee. All these hidden charges can eat up huge chunk of your ROI especially when your remittance amount is small.
Instarem is a Fintech Company that allow you to perform fast and transparent money transfer abroad without going through the banks retail forex rates and all those hidden charges.

Transfer money to Singapore via Instarem reach instantly. Part of the reason is Instarem is from Singapore. So its a plus point for this service. Using this service can cut down your bank wire fees from ridiculous 7% to 1.xx%
Bank Wire from non CIMB bank > Your CIMB Singapore Bank (fees easily 3.1% – 7%)
CIMB Bank Internal Transfer > Your CIMB Singapore Bank (fees around 1.4% onwards)
Instarem > Your CIMB Singapore Bank (fees around 0.95%-1%)
[ comparison table ]
Click here to register Instarem account
Once account verified, login and click on Send Money.
Adjust the amount till you see recipient bank (your singapore bank) will receive 1700SGD.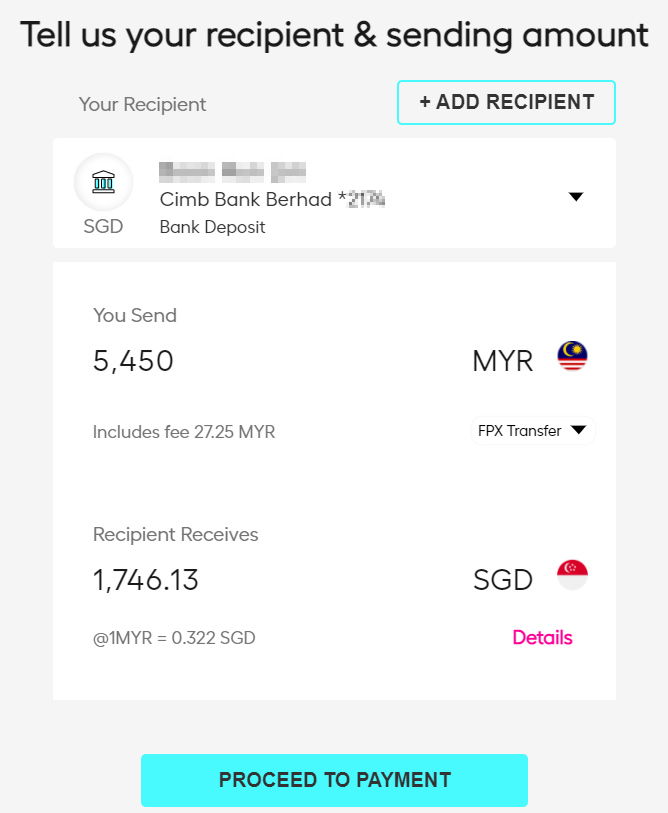 I personally top-up amount slightly higher, because I prefer to leave some dollar inside the bank, although the bank can FastSaver allow zero balance. PROCEED TO PAYMENT. Ka-Ching! money instantly arrived at your Singapore CIMB Bank Account.

I also +ADD RECIPIENT , so that future when I login to Instarem, can directly select my CIMB Singapore bank account from the list, without having to fill in all the details from a-z again.
Step 6: Login to moomoo
Signup here to your moomoo free gift
Go to your Moomoo App, Funding instruction, copy down the bank details.
Step 7: Transfer your SGD from Singapore Saving Account into Moomoo
Login to your CIMB Singapore Internet banking, fill in Futu bank details and send money. I also add the FUTU bank details to favorite, future can send faster. Look for Local Transfer > Via Fast and Local Transfer > Add Favorite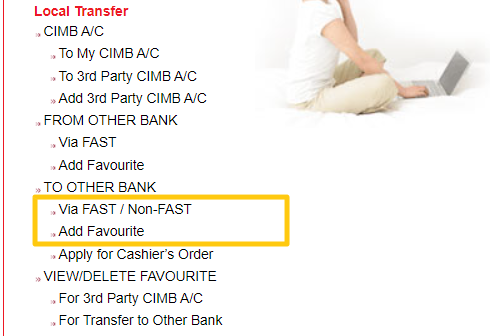 Step 8: Inform FUTU your already deposit
Go back to your moomoo app, Inform FUTU by filling in deposit amount.
From my experience, If you deposit and inform during working hours, your fund will appear almost instantly.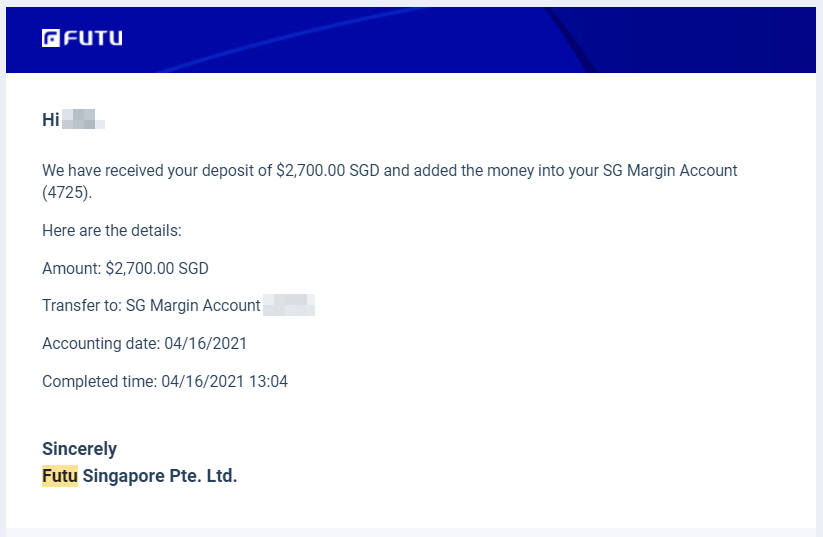 Step 9: Convert SGD into USD
At your mobile app, select Currency Exchange, key in amount to convert, review the exchange rate and click Submit. Then at 3rd page you will get the final rate.
Step 10: Buy Your First US Stock
Now, let's start buying your first share. Go to US Market tab. In this example, I show you how to buy Apple. Click on Trade button, then fill in quantity of shares.
Take note, US allow buying shares in 1 unit. You don't have to purposely fork out huge capital to buy 1 lot / 100 units.
Now you see Apple trading at 131 USD, so 1 unit means 131 USD. Any beginner with few hundred ringgit in hand afford to buy.
Scenario 1: Apple currently traded at $131.60, I only want to buy at $128. So I Select LMT Price (Queue up).
Good-Til-Canceled means this pending order will be there as long as it not yet fulfill. I use this strategy to wait for market correction to get order filled.
Fill outside RTH Allow means if the price touch $128 before market open, I also want to buy. Cool right 🙂
Scenario 2: Buy at market price (MKT). Order immediately fulfilled. I use this strategy to consistently accumulate share for retirement. Sometimes it is hard for you to catch the bottom or catch the market correction. Good quality stock will go up even market correction happen. So I employ this strategy to buy in consistently, at the end of the day, I getting this stock at average price, without feeling of missing out on it.
Congratulation, you just successfully purchase your first US stock.
In future, just login to Instarem to send money to your Cimb Singapore, then login to your Cimb Singapore to perform FAST instant transfer to moomoo. Then open moomoo app to convert SGD into USD, go to US tab, buy share.
Advantage of This Method for Mid Term and Long Term Investing
This method I show you here help you to cut down bank transfer and currency conversion fees from as high as 8% to merely 1.3x% or lower.

Beginner, just come out to work, invest for your children, or want to consistently every month pump in some extra money to buy share? This the best way.

If you go through bank to transfer small amount such as $1000, after the deduction here and there, you may left with $920. Just one funding, you loss near to 8% already.

However, using my strategy above, even transfer small amount $1000, or $500, or $200, the processing fees are consistently low. Your loss in processing and currency exchange fee bring down to around 1.3x% or lower. So nothing else can stop you from investing in high quality US Shares.
Need help? whatsapp me here.