Interactive Brokers Finally Welcoming Retail Investors 🙂
If you are a Malaysian looking to invest in overseas shares, you are in the right post. Local brokers charging very high brokerage fees…
Today I'm going to show you how to invest in US and Hong Kong Share Market via Interactive Brokers.
First time hearing Interactive Brokers? IB is an awesome broker providing global trading. You just need one account to be able to buy and sell shares in many countries. They also the first broker to offer $0 commission via IBKR Lite. All this while, their customers mainly are high net worth investors with million dollars capital, active traders, fund managers, and institutions.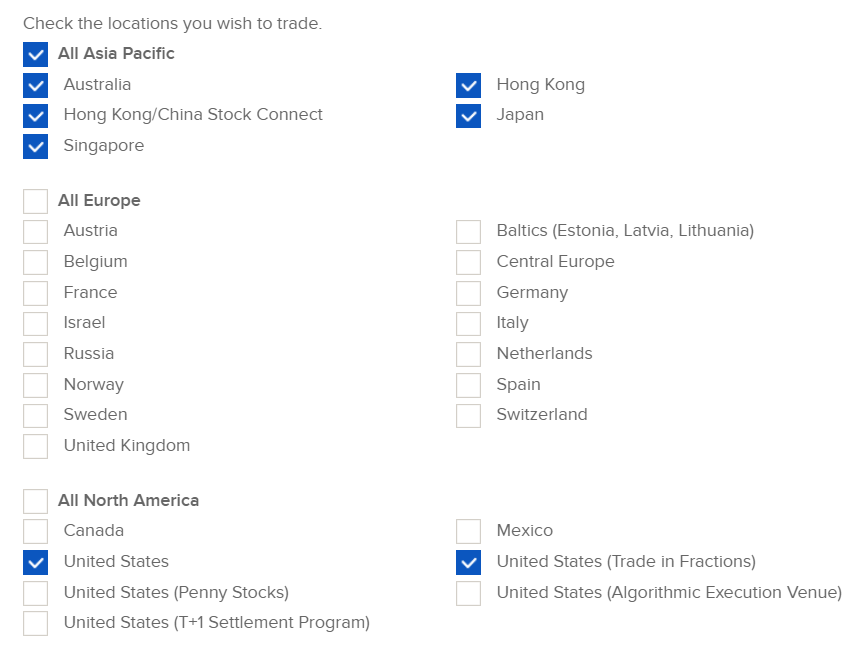 If your account having capital less than $2000 or the monthly commission you generated from buy sell activities less than $20, IBKR will charge you $20. If your account size is greater than $2000 however you not actively trading, then you have to pay $10 for each month failing to hit the minimum requirement.
Effective July 1 2021, retail investors can now use IBKR Pro account with no inactivity fee. 🙂
Why This Matter? This move to eliminate monthly inactivity fee by Interactive Brokers shock the whole industry again. Retail investor love IBKR, but give up to proceed due to the $10 per month or $20 per month.
There is more good news. Interactive Brokers is also the 1st broker to enable fractional US shares trading/investing to mass public in whole world. What this means for you an me? No longer a barrier to accumulate high quality shares at fractional pricing.  Want to know deeper? Read this post on How I invest in Fractional Share?
Benefits of Using Interactive Brokers
One of the best low brokerage fee in the world
Trade stocks at major markets throughout the whole world
Best currency conversion rate
Allow direct funding into any currency type via Instarem *
1st broker to made Fractional share investing available to mass public
Trade any instruments (equity, options, index, futures, bonds, mutual funds, 

forex

)
$0 monthly fee
Free 1 withdrawal every month
No funding deposit service fee
Lowest loan margin rate in the brokerage industry
My experience opening account at Interactive Brokers is quite good.
Saturday upload verification documents and funding via Instarem
Sunday Instarem notify fund transfer successfully.
Monday night, account approved (they use batch system to auto activate trading features of new account every 24 hours)
Tuesday, buying first share.
This is very fast, considering Saturday and Sunday is non working days, the activation only take 1 business day.
Steps to open Interactive Brokes and perform first funding
Step 1: Register a new account
Register through my link to get 
free IBKR Stock worth up to $1000
. You are required to fill in standard signup details and select your region. When you reach the net worth questionnaire, make sure you
select a higher amount
. Else you are not allow to proceed further, and be restricted to very limited trading features. No worry, they not going to perform any background check on you. Once registration done, you will be logged in to domain ending with HK/AU or etc. This sounds confusing especially when you are first timer. Don't worry, This just their web domain structure. I'm logging in at domain ending with .au (Australia), but can trade any markets without any problem.
For SG residents, account will be handle by IBKR SG Pte Ltd. The rest will be handle by IBKR LLC (the US Interactive Brokers)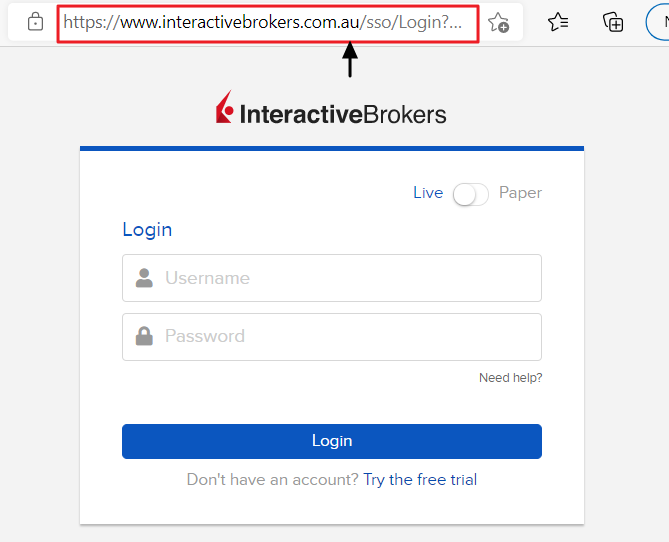 Step 2: Upload supporting documents
Step 3: Deposit tab, fund directly. They approve very fast when you funding first.
No minimum deposit, but advisable to fund with good amount to show them you are a serious client. I perform deposit first, then got my account fully activated within 1 business day. 
Here's the step to get the latest banking details of Interactive Brokers. In this example, I selected HKD because I want to buy some below market value share deal at Hong Kong Stock Exchange.
You can use local bank to perform bank transfer too. However, their service fee is expensive. I use Instarem because cost transparency and no hidden fees.  Refer to this post to find out why I love using Instarem?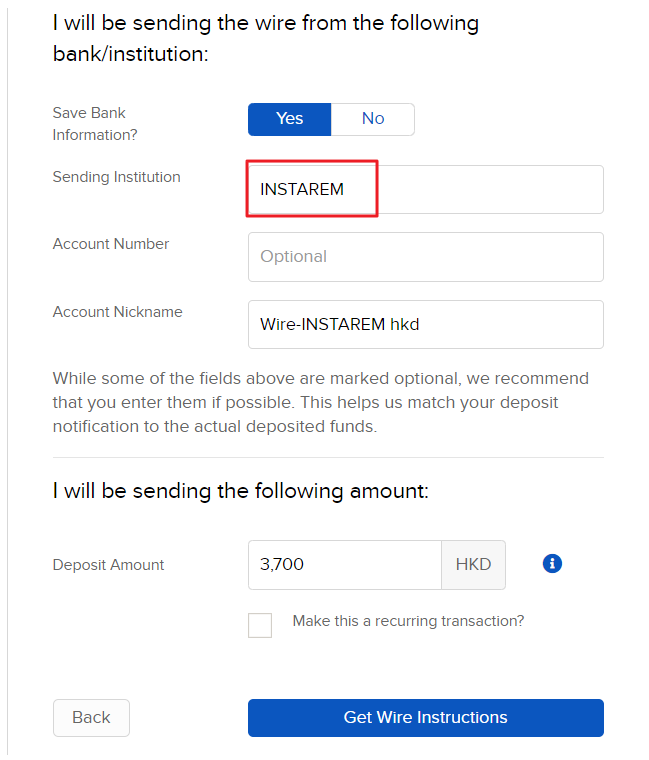 At the next page, Interactive Brokers will give you full instruction on how to perform funding. Just now I selected HKD, that's why now IBKR show me their hong kong bank details.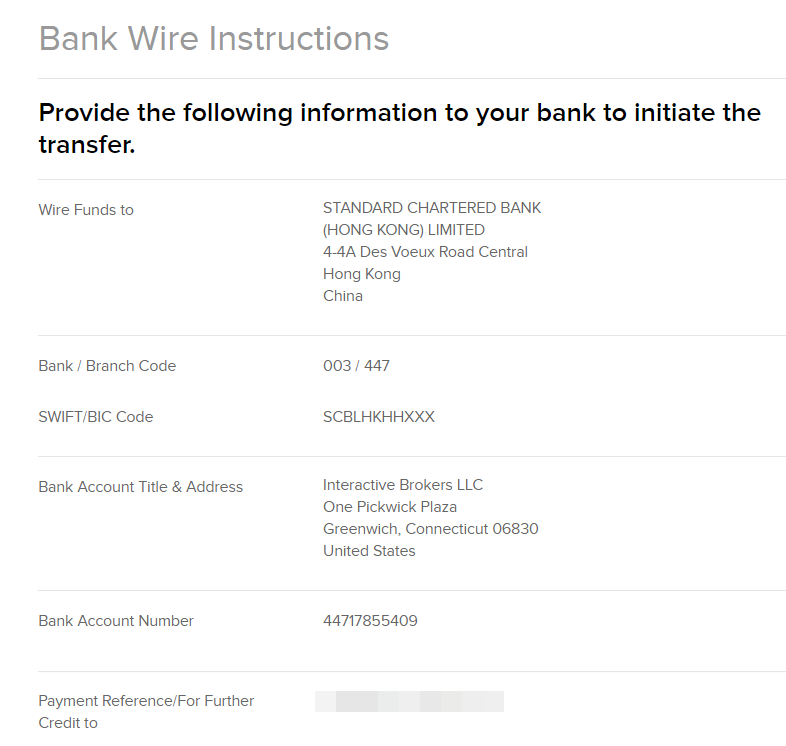 Step 4: Instarem add to favorite directly.
After login, I immediately add Interactive Brokers as favorite recipient. So that future I can reuse this same bank info and submit transfer in less than 2 minutes. The business phone number for Interactive Brokers Hong Kong is (852) 21567907. For the email field, just fill in your own email will do.
Don't have Instarem account yet? Register through this link to get free Instapoint. Every 100 Instapoints entitled you for extra RM6 fees deduction.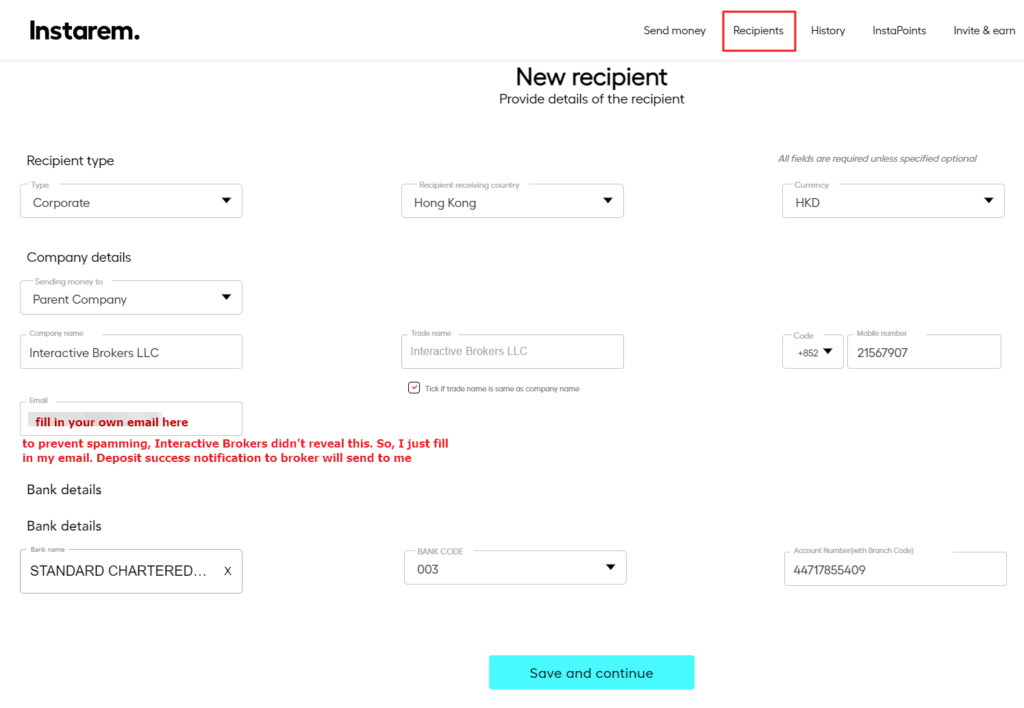 Firstly, select the the Interactive Broker HKD added just now. Then fill in the actual amount you want it to show up at Interactive Brokers bank account.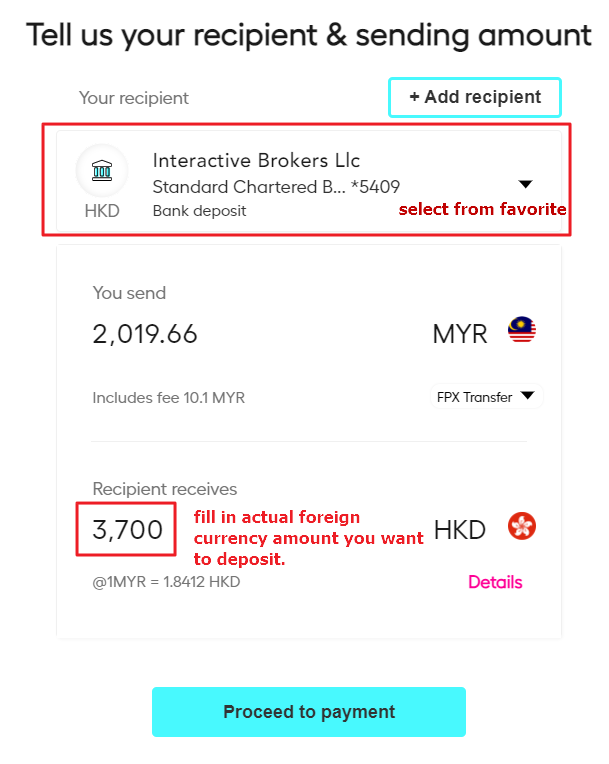 Add a note field is compulsory, you must write down your client account number at here. Replace UXXXXXXX with your own client account number. If you miss out this, then later you have to download transfer slip from Instarem and manually contact IB to proof there is a payment coming from you. The proper way is fill in the full sentence like this: Further Credit To UXXXXXX / Your Name. However,  however you can shorten it, just filling in UXXXXX will do, IBKR know this representing your client account number.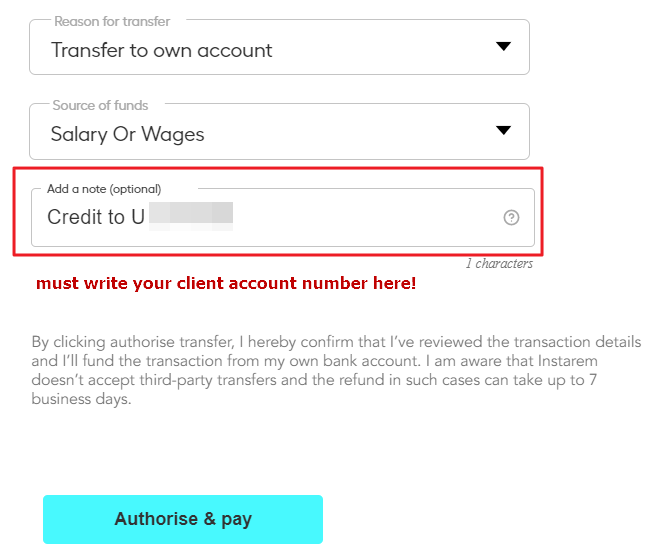 Then make payment from any local bank supported by FPX.
Step 6: Check Email for Deposit Status
The money transfer speed via Instarem is super fast. During working hour, within 2 minutes after I submit payment via Instarem, money arrived at Interactive Brokers HK bank account. Crazy, it's even faster than Cryptocurrency like Bitcoin.
You can also login to Interactive Brokers to check the status. After fund arrived at IBKR, they will perform some checking, so the initial status is On Hold. After another 1-2 hours, status will be updated to Completed.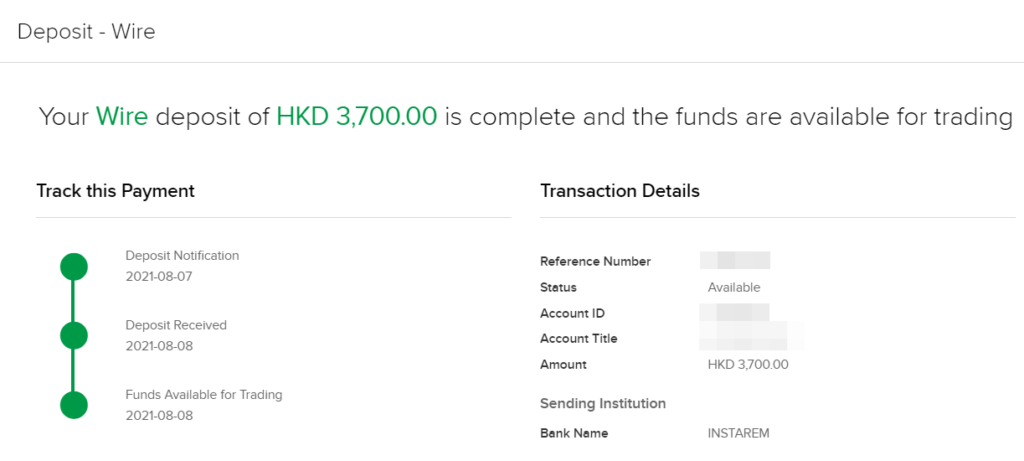 Step 7: Welcome Email from Interactive Brokers
Upon account approval, IBKR will send you a welcome email. For my case, I haven't receive any welcome email after account approved. I actually found out account approved after perform my first funding, then next day login to check. So do take note on this.
Go to Convert Currency > Enter amount > Submit
USD2.00 per conversion, regardless of amount
Ability to funding Interactive Brokers via third party money transfer service like Instarem means a lot for me. The Extra 1% I saved, indirectly means I earned extra 1%. Account opening just took me 1 business day. Even without using Instarem, I still can use CIMB Singapore to deposit fund in SGD, then use IBKR currency conversion tool to easily convert SGD to any currency at spot rate and proceed to trade the particular market. Interactive Brokers is really a global trading platform. Loan margin of only 1.99% for US markets allow me to take advantage on it when the right time reached. 
Useful Links and Freebies